IBEW Local 134, Chicago
Members of the International Brotherhood of Electrical Workers (IBEW) Local 134 in Chicago celebrated the grand opening of their new headquarters and union hall in May 2018 – a renovation project that has been described in glowing terms that are reflective not only of the building's light-filled architectural design but of its significant impact on the surrounding Bronzeville neighborhood revitalization. The new IBEW Local 134 headquarters has been dubbed "the Beacon of Bronzeville" and praised for its sleek, state-of-the-art design.
The $25-million project – totaling approximately 70,000 square feet – includes a 48,000 square-foot retrofit of the former Chicago Public Schools' 1960s-era Drake Elementary School into IBEW administrative offices as well as new construction of an adjacent 22,000 square-foot wing to house the IBEW's union hall and lobby. The school's original gymnasium has been renovated into a new community center in which neighborhood residents can play basketball, soccer and other indoor sports for free. Additionally, IBEW 134 is partnering with neighboring Dunbar Vocational Career Academy High School to provide instructors to teach electrical courses; and, it has guaranteed program graduates positions in the union's pre-apprentice program. Darien, Ill.-headquartered Wight & Company served as both architect and general contractor for the project. "IBEW Local 134 sought a new home for its members – a home that would create a strong presence within a community, a home that would speak to both the history and the future of this strong brotherhood, a home that would be both inviting and inspiring," said Milica "Mimi" Stojsavljevic, project designer, Wight & Company. "They wanted to create a gathering place that puts light on both the union's future as well as its legacy. Local 134 wanted to build a state-of-the-art facility that would represent the future of their trade and set a precedent for all others." This sleek architectural design's modern façade is clad in nearly 24,000 square feet of 4mm Alucobond® PLUS aluminum composite material including: 19,873 square feet of Custom Ridgedale Silver, 2,327 square feet of Custom Gray Velvet Mica and 1,747 square feet of Bone White. Alucobond panels also were installed in the interior as well in areas "where we were trying to mimic some of the exterior architecture," according to Stojsavljevic.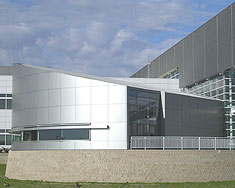 "The Alucobond ACM panel was selected as the 'wrapper' of the building because it gave us a clean and modern finish that would help emphasize the massing as well as the slim profile that was crucial to the architectural concept," said Stojsavljevic. "The module we wanted to work with was fairly large and Alucobond ACM was able to achieve this. The custom colors were so helpful; it gave us endless opportunity in color selection." The Custom Ridgedale Silver and Custom Gray Velvet Mica Alucobond colors were selected "to create a two-tone subtle backdrop to reflect the building's light feature," said Stojsavljevic. "The return response from 3A Composites for these custom Alucobond colors was spot on. We picked these very custom colors to create a silhouette around a light-filled wall. We wanted to create a bold statement in the community that would reflect the Bronzeville revitalization." Wight & Company conducted a feasibility study of the property for IBEW 134 prior to its purchase in February 2016. Both Wight's design and construction teams were involved in the project's design. "The transformation of the original Drake School was going to be dramatic, which indicated early on that it would need a profound amount of collaborative effort between the design and construction teams," said Stojsavljevic. "Wight & Company was perfect for the job as we were all one team that worked seamlessly together toward the end goal." One of the biggest challenges in renovating the Drake School was the availability of only a few existing architectural drawings, according to Stojsavljevic, who said the lack of drawings produced "some surprises" in demolition. Additionally, she said the school's low floor-to-floor height required a great deal of detail and planning to install new mechanical, electrical and plumbing systems.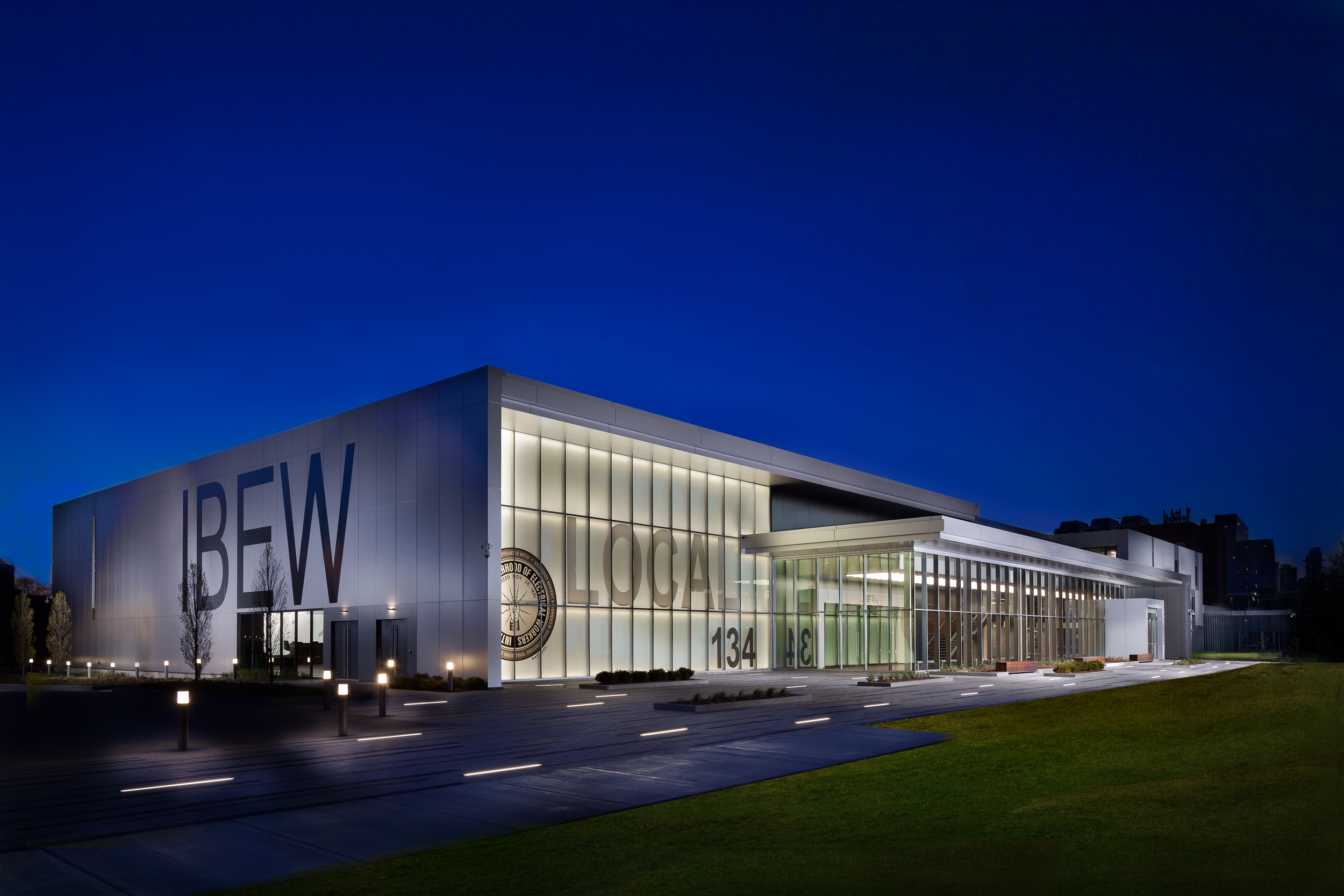 The existing school building serves as Local 134's business headquarters and houses offices, conference rooms and lounges – spaces that were not complementary with the previous classroom layout. In order to achieve IBEW's design goals for the old school, Stojsavljevic said the decision was made to demolish everything but the concrete structure and to rebuild the exterior skin and interiors. A five-foot cavity between the renovated school building and the newly constructed union hall and lobby was designed to serve as a chase for oversized ductwork running to the lobby. "We had to remove everything from the school down to its concrete structure, which included masonry and light gauge steel," said Mark Lomeda, senior project manager and LEAN strategy leader, Wight & Company. "Our engineers then were able to verify exactly what was there." Demolition began in January 2017 with a tight schedule requiring renovated offices to be ready in September 2017 and the newly constructed union hall and lobby completed in March 2018. "Scheduling was a major challenge to connect the new building with the existing structure while new construction was ongoing," said Lomeda. While a thinner metal panel originally was specified as cladding for both buildings, Architectural Panel Systems, Inc.(APS) of Naperville, Ill., recommended Alucobond ACM in order to maintain the aesthetics of this modern design that incorporates very large modules. "Alucobond allowed them to keep the aesthetics and come in at budget," said Ross Boehmer, president, Architectural Panel Systems (APS), which installed the Alucobond panels with a rainscreen system. "We could install much larger panels with joints where they wanted them. We were able to provide the aesthetics as specified." APS turned to Sobotec Ltd, of Hamilton, Ontario, Canada, for engineering and fabrication of 1,085 large Alucobond panels – with the majority measuring 5 feet by 12 feet but ranging up to 16 feet in length. "This design required very long panels," said Vlad Sobot, president, Sobotec. "If we used any cladding material other than Alucobond, it would show a great deal of oil canning." Sobotec fabricated and delivered nearly 10 truckloads of pre-fabricated Alucobond panels in phases over three months in 2017. "Everything was pre-fabricated and formed; these large formed panels took up a lot of space on the trucks," said Sobot. "These panels were very linear and very flat. The reason that this job looks so clean and crisp is three-fold and includes the flatness of the Alucobond material, proper fabrication and forming , and the installation. All three of these elements were of the highest quality." "This design was very unique," said Boehmer. "Everyone involved in this project should be proud."
Type:
Modern Metal Update
Client:
International Brotherhood of Electrical Workers (IBEW) Local 134